So you've made the awesome decision to introduce your baby to music activities, good for you! Now what? How does it all work? Imagine this scenario for a moment…
You sit your baby down and you start your first music session together. You start singing and she looks away. When you try to demonstrate an activity with an instrument, she tries to grab it. When you give it to her she sticks it in her mouth. After a few activities she notices the dog through the screen door and crawls away to say hello to "Spot". Slowly you feel yourself getting more frustrated and you are no longer enjoying music time.
Does this sound familiar? If so, you are not alone. I've experienced these types of situations when trying to do music sessions with my own little ones. I've also witnessed many such scenarios in my Baby's Music classes – particularly within the first few sessions. A Mum running after her 13-month-olds who has decided to investigate the door on the other side of the room. An 8-month-old who sits quietly throughout the class without moving or making a peep.
Here are my top tips on how to get the most out of Music Time with your baby.
1. Keep your expectations and goals realistic
It is important when doing a music session to always remember that babies will be babies. They stick things in their mouths, they are curious about the world around them and they are easily over-stimulated. And like adults, every baby is different. They have different temperaments, skills and development and responses to stimulation. Some babies are "easy", some are "intense", some babies are "always active" and some are "sleepy" and prefer quiet time. So, it stands to reason that every baby will respond differently to music time. And that's OK! Just "go with the flow" and continue with the activities. If he completely loses interest in the session you should stop and leave it there. The flexibility to start and stop when you need to is definitely a benefit of an online program.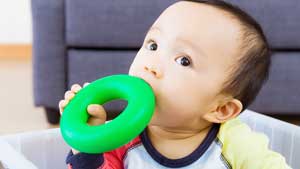 Which brings me to your goals for doing music with your baby. Are they to "achieve" something specific? At this age and stage of musical development, your main goal should simply be to immerse your child in a fun, musical environment. Just like learning a language, the best way to learn the language of music is through exposure. Yes there are benefits of exposing your child to music but these occur naturally over time.
So my first tip is to keep your expectations and goals realistic. Of course there are ways that you can set the scene to keep your baby interested and engaged in music and I am going to share some of those tips with you now.
2. Choose a 'music time' that suits your baby
Make music time a regular thing. It doesn't have to be the same time or even the same day each week, but as long as you have a music session regularly (I would recommend once a week) then your baby will know what to expect.
Choose the best time of day for your baby – most babies have a time of the day they are at their happiest and most likely to engage in the session.
Make sure that your baby is well fed, well rested and has a clean nappy. (The basics!)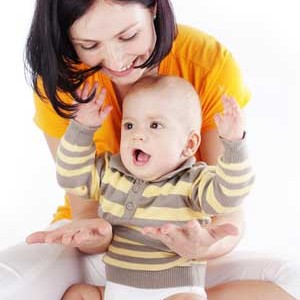 3. Choose a suitable space and minimise distractions
Ideally you should do music in a quiet, comfortable space that has as little background noise, or other distractions, as possible.
Rooms with soft furnishings and carpets work best as they generate less echo from hard surfaces. (More 'direct' audio from the music activities and less 'room' sound = greater 'intelligibility' of the sound.) This means baby will find it easier to focus on the music and lyrics.
If you are in a room with a hard floor sit on a soft, blanket or mat. Grab some cushions, get comfy!
Try to ensure that any toys and objects of interest are packed away and out of sight (including pets!). Again, minimise distractions.
4. Try different types of music activities
Your baby is likely to get restless and lose interest if you repeat the same type of activity the whole time (ie. lap plays). Mix up your music session with lots of different activities. Here are my suggestions:
Sing and clap along to nursery rhymes. Do actions to match the words (eg. Hey Diddle, Diddle, Baa Baa Black Sheep etc)
Fingerplays (eg. Two Little Dickie Birds, Here Is The Beehive)
Bouncing rhymes/lap play (eg. Ride-A-Cock Horse, This Is The Way The Ladies Ride etc)
Dance with your baby to a variety of musical styles and genres
Musical play activities with props such as scarves, bubbles, boxes etc.
Play instruments together (maracas, rhythm sticks, tambourine etc)
Sing traditional lullabies
My online music sessions cover all of these types of activities. You can see how I do it here.
5. Get physical
Ensure that you support your baby (particularly her head and neck) when doing action songs/ any movement.
Sit or lie baby in your lap or on the floor in front of you
Use lots of eye contact to maintain your baby's interest
Use lots of facial expression (for your baby to mirror)
Touch your baby and move her body parts as you sing or listen to music
Vary the pitch and tone of your voice when saying rhymes
Be enthusiastic! Children learn by imitation and you are your baby's first role model. Show her that you enjoy making music and she will copy you.
6. Read your baby's cues
Nobody knows your baby better than you. Pay special attention to her cues so that you recognise when she is interested and engaged – and when she is overstimulated and has had enough. It's pointless to continue the session if baby starts to get grizzly.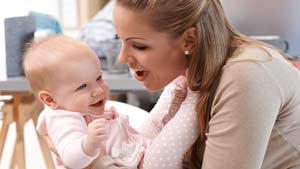 7. Incorporate music into your daily routine – embrace repetition
Although you may only have the time to do one dedicated session of music per week with your baby, you can repeat the songs, rhymes and activities every day, at any time! Try a few songs and rhymes with baby during:
Nappy change time
Bath time,
Bed time,
In the car (this one is always fun!)
Repetition is crucial to learning and your baby won't get tired of the same songs again and again. Singing the same songs and rhymes during particular day to day activities is a great way to introduce repetition.
Music is all about having fun, and I hope you found these tips to be useful. While following these tips should set you up well to enjoy music with your baby, of course there are no right or wrong ways. At the end of the day, do whatever works for you and your baby. So long as you're both sharing heaps of smiles and giggles and having a good time through music, then I'd be happy with that!
What are your tips?
As I've mentioned a couple of times, all babies are different and I'd just love to hear what has or hasn't worked for you when doing music with your bub. Leave a comment below and I'll be sure to share your tips with the other mums.