About Sarah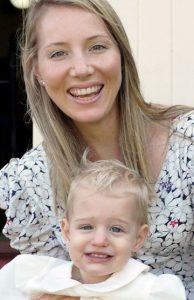 Hello! I'm Sarah Richard-Preston, creator of The Bubble Box. First and foremost, I'd like to personally welcome you to The Bubble Box. Thanks for stopping by!
A Few Things About Me, Sarah Richard-Preston
1) I love to sing (in the shower, around the house, to the car radio). BUT I've been known to get the lyrics to many a pop song very wrong. Maybe that's why I love nursery rhymes and kids songs – they're so easy to remember! That's also why I have included the lyrics to all of the songs and rhymes in The Bubble Box program. 
2) I'm the proud mother of two primary school aged children who also love to sing. The eldest never stops singing, much to the chagrin of the youngest. They also sing in choirs and learn instruments. The eldest has performed lead roles in her school musicals Moana and Annie and watching her on stage was very special. I myself played lead roles in my high school musicals.  
3) Once upon a time I used to work in Advertising. But in my mid 20's I decided that this wasn't the career for me and that I should follow my passions; children, music and drama. So I completed a Graduate Diploma of Education (Early Childhood) and became a teacher. I play my guitar and use music every day in the classroom, as I know how it provides a multitude of learning benefits for my students. I have also directed a school choir and have been a musical director for school musicals.
My Inspiration for The Bubble Box
So, now that I've told you a little bit about me, let me tell you about how my experiences led me to create The Bubble Box.
During my teaching studies, I taught early childhood music classes for babies, toddlers and preschoolers, both private lessons and within childcare centres. I witnessed the joy that making music brings young children, especially when shared with a parent.
Upon graduating I worked for two years in a Creative Arts Academy for preschool children, where I planned and implemented Music & Movement and Drama workshops for young children (including a Babies Music class). I gained first hand insight into the ways that young children grow and learn through music.
I also held the role of 'Principal' for a Performing Arts Academy and there I observed how young children gain confidence and are able to express themselves through the Performing Arts.
Then I became the mother of two gorgeous little girls. It was this experience, the greatest and most challenging of all, that inspired me to create The Bubble Box. Because, like all parents, I wanted my children to have the best start in life. And I knew from my work and personal experiences that spending quality time doing music activities together would give them just that.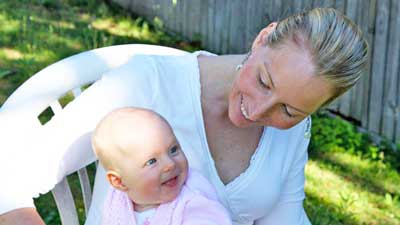 At first, I figured a great way to help other parents share music with their babies was to start my own face-to-face music class – The Bubble Box Music Group. However, I soon noticed that life can often get in the way of attending a class regularly. Babies get sick, appointments pop up, class times conflict with nap times and sometimes you have to travel a fair way just to get to a class. Which made me think… what if there was an online program of activities that you could do in the comfort of your own home, anytime you liked?
Something more than just a website with a list of nursery rhymes and lyrics. More than just a blog with an activity here and an activity there. A structured program of babies music activities with video demonstrations that teach you the lyrics, the tune and the actions, just like in a traditional class.
Hence The Bubble Box was born… driven by my goal to provide you with a music program of activities that that boosts your baby's learning and development, makes the most of your precious baby time and makes life just that little bit easier for you.
I hope that you find it all of these things and more.
You can read more about me on my LinkedIn profile. If you have any questions or feedback please email me  or connect with me on whichever social media you prefer. I'd love to hear from you.
Thank you and enjoy!
Sarah
Join my 8 session online program of 100+ music activities for you and bub.
If a face-to-face music class isn't practical for you or your baby/toddler, consider my online program! I'll teach you how to do music with your little one in the comfort of your own home. I sing and demonstrate the actions - you'll soon be singing along, sharing smiles and giggles and feeling great for playing an active role in your baby's development.
30 minutes a week = a lifetime of developmental benefits.