You might think it's impossible to teach your child a language that you don't speak. But who says you have to be fluent in French, proficient at Portuguese or able to chat in Chinese to introduce your baby a foreign language.
Why teach your baby another language?
Unless you or another significant person in your baby's life is a native speaker he is not going to become fluent by 5 but that doesn't really matter. What is important is the process of learning a new language.
There's never a better time for your child to start learning new languages than as a baby. Many studies show that babies possess a remarkable ability to distinguish all sounds in all languages. But between six and 12 months of age, they start discarding sounds and words they don't hear in their everyday environment. They become experts in their own language and culturally bound, having less propensity to foreign language learning.
Bilingual babies are smarter. Introducing a second language to children as early as possible is the best way to add neural pathways and increase their capacity for intellectual development and provides the foundation for further learning. It helps build a more powerful brain and strengthens mastery and understanding of a first language. Research has found that babies who hear foreign speech in their first nine months of life find it easier to pick up languages in school or as adults. Learning a foreign language is advantageous for your child's future in many ways – encouraging openness to new cultures and experiences and critical thinking. Not to mention the benefits of speaking a second language in this age of globalisation.
How can I introduce a foreign language to my baby?
So how do you go about teaching a baby or toddler a foreign language? Obviously the first step is to start learning the language yourself (which is great for your brain too!) It's a good idea to choose a language that you are comfortable with or have exposure to such as German if you studied it at high school, Japanese if you have travelled to Japan or Korean if you have a friend in your playgroup who comes from Korea.
You could enrol in a language course or teach yourself. There is a wide range of language learning resources online and at your local library – Podcasts, Apps, Youtube clips, DVD's such as the Early Lingo language learning tool, television shows, books, magazines and many more. Once you have learned some new words/phrases you can then use them with your baby. As with any early childhood learning it is important to make the process fun and playful, rather than a lesson.
Here are 3 tips for introducing your baby to a foreign language:
Tip #1 – Replace English words with foreign words
Incorporate the new words that you learn into everyday language by replacing one word of an English sentence with the same word in the foreign language. For example "What a pretty rouge (red in French) flower." Replace English words with foreign words as often as possible in context as you go about your daily routines.
Tip #2 – Sing songs/ recite rhymes in a foreign language
Songs (particularly nursery rhymes with actions) are are a great way to teach a foreign language because they rhyme, are easy to remember, and fun to listen to. When words are repeatedly sung or recited, it reinforces what was learned and also brings movement and rhythm into the equation of stimulating the brain for better learning. Just get a CD or download some children's songs in your language of choice and play in the car or at home, ensuring that you sing along. This way your baby will start to develop an ear for the structure of the language.
Here's the Goodbye Song (from my online music program for babies), in which we sing "goodbye" in 7 languages. The universal gesture of waving goodbye helps baby to attach meaning to the words.
Tip #3 – Read to your baby in a foreign language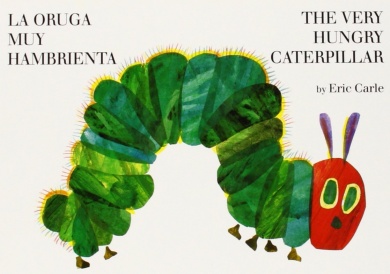 You can find some of the classic books (such as The Hungry Caterpillar and Dear Zoo) in bilingual versions. If you aren't sure of the pronunciation for entire sentences pick out a few words you do feel comfortable with and replace these words as you read the English version ie. (the days of the week in Spanish – lunes, martes, miércoles etc)
There are also mutli-lingual book apps such as Luca Lashes (available in Chinese, English, French, Italian, and Spanish). However, the main idea is for you to speak the language to your baby as you are still the best teacher! Babies love the sounds of their parents' voices.
Remember to have fun and be realistic with your expectations (for yourself and your child).
Bonne Chance! (Good luck!)