Easter is upon us and so is the season of chocolate! But if you're like me you might prefer to wait a couple of years before giving your baby sweets.
When my girls were babies I tried to keep them away from the taste of sugary foods, especially chocolate – it's so addictive and it really isn't good for their little teeth and tummies.
An alternative gift to chocolate eggs
You might still want to give your baby an Easter gift, but it can be hard to find an alternative – there are only so many plush bunnies one child can play with!
A great alternative to chocolate eggs is bright and colourful egg maracas. They provide the wonderful gift of music, fun and play that lasts much longer than chocolate. And you can even hide them around the garden and take your baby on an egg hunt to find the musical treats! When Easter is finished, why not join my program of activities and learn how to make music with your little one.
Hand make your own easter egg maracas
You could of course buy some egg maracas or you can make your own. Here are two options for homemade easter egg maracas.
Note! Please supervise your baby at all times when using the egg maracas as they pose a choking hazard if they break. These eggs are instruments, not toys, and you should never leave the eggs with your baby unattended. Once you've finished playing with them, put them away in safe place until next time.
Plastic egg maracas
Materials
Plastic fillable easter eggs (from a dollar shop, Big W etc)
Filler – Rice/Dried Beans/Split Peas/small pebbles/popcorn kernels
Hot glue gun and glue sticks or Superglue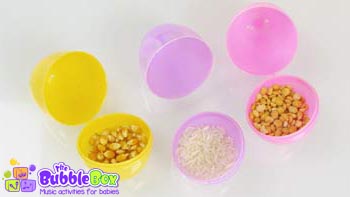 What to Do
Separate the eggs into halves.
Fill the plastic eggs with your choice of filler. You might like to try a few with different fillers to make different sounds.
Glue the halves together either by spreading hot glue or super glue along the edges of one half and then sticking together and holding firmly for a few seconds.
Make sure the glue dries thoroughly before using.
---
What do the different fillers sound like?
The low pitch sound is created by the corn filler, the medium pitch is the split peas and the higher pitched is the rice sound is the rice. You might notice that the larger the size of the individual pieces of filler, the lower the pitch!
---
Decoupage Egg Maracas
Materials
Eggs
PVA Glue (watered down 2 parts glue to 1 part water) or decoupage glue
Tissue paper (pale colours like blue, pink, yellow and purple work well)
Scissors
Filler such as dried beans/ rice/ peas
A thumbtack/pin/toothpick
What to Do
Pierce a hole at either end of the egg using a thumbtack/pin/toothpick (please be careful!). Make one of the holes big enough to insert your filler.
Hold the egg steady and blow through the top hole until all of the yolk and white have come out.
Rinse the egg with water and leave to dry for a while.
Cut up the tissue paper into little pieces.
Fill the eggs with shaking materials once they are dry. Don't fill them up too much and be sure to test to see if they make a good noise.
Start gluing the tissue paper on the egg using a layer of glue, then a layer of paper. Cover the hole in the egg first and make sure that you use lots of layers ( 5 or 6 in the least).
Once you've covered the egg in sufficient layers of tissue paper leave it on a ceramic dish to dry (it is less likely to stick to this). Turn the egg every once in a while so it doesn't stick.
Wait until the eggs are completely dry (1-2 days) before using them.