Although I have dedicated my site and program to babies music activities, I will also be posting blogs with music, visual art and play activities for Toddlers and Preschoolers from time to time. If your bub doesn't have an older sibling you might like to share these ideas with friends and relatives.
Integrating arts experiences can make learning all the more fun (and rich) for young children. I've tried and tested many of the activities with my girls and will include discussion points to extend your child's learning. Today's activities are all about exploring the ever-popular material Bubble Wrap!
Music Activity – Bubble Wrap Dancing
Age
18 months – 3 years
Materials
Bubble Wrap packing material
What To Do
Place a piece of bubble wrap in the centre of the room.
Play the song I'm Forever Blowing Bubbles By Jaan Kenbrovin and John Kelette
Dance around the room with your child to the music.
When the music stops* jump up and down on the bubble wrap with your child to make popping noises. (*The music has been edited to include pauses.)
Have a discussion with your child using the points below.
Discussion Points
What happens when we jump on the bubble wrap?
What sounds do we make?
Did you like the music?
What did you hear in the music?
Learning Opportunities
Listening skills
Gross motor
Art Activity – Bubble Wrap Printing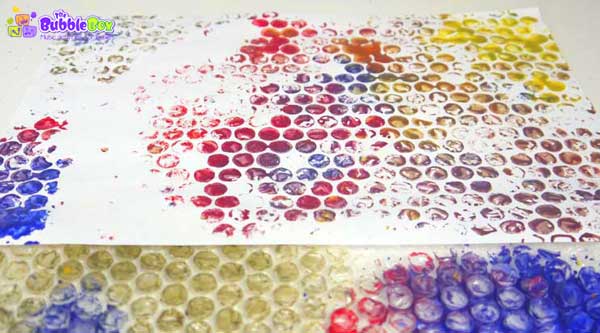 Age
18 months – 5 years (Preschoolers will enjoy making their own prints, which you can use as wrapping paper for gifts!)
Time
20 minutes
Materials
Art smock/ old t-shirt
Newspaper/plastic
Bubble wrap packing material
Tape
Tempera powder paint (variety of colours)
Paint pots
Paper
Paintbrushes (the thick ones are better for toddlers to grip)
Preparation
Tape the bubble wrap to the table or surface your child will be painting on.
Spread out some newspaper/plastic underneath the table to catch any drips.
Mix up the tempera paint with water in pots.
Place the paintbrushes next to the paint.
What To Do
Put on your child's art smock/ old t-shirt.
Let your child have fun painting the bubble wrap.
Encourage him/her to cover the whole surface area.
Once the bubble wrap is sufficiently covered in paint help your toddler press a piece of paper on it/ give your preschooler some paper to do it herself and see what wonderful prints are created.
Hang the prints up to dry.
Discussion Points
Colours of paint – What colour is this? What happens when you mix these colours together?
Textures of bubble wrap – What does the bubble wrap feel like?
Sounds – What noise does the bubble wrap make when you press it?
Learning Opportunities
Fine motor skills: Manipulating a paintbrush
Sensory awareness: Feeling various textures, squishy, bubbly and hearing the popping noise.
Creativity: Experimenting with materials
Cause and effect: Printmaking